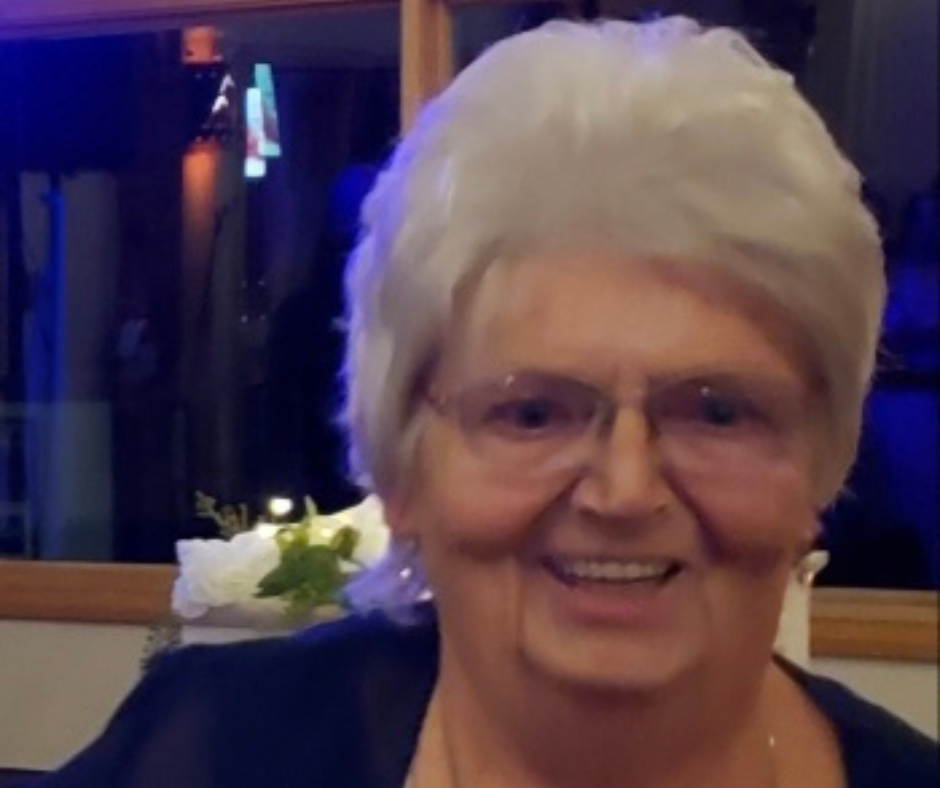 Living in Westlock, Lola was a farm wife for most of her life and enjoyed being out in the country. After her husband passed away, she moved into town and kept a busy social life as part of a seniors' club, curling, and as a member of the ladies' auxiliary at the local Legion.
Then Lola received the daunting news: she was diagnosed with a glomus tumor located behind her right ear. She was told that the tumor was inoperable, as surgery would be too high-risk. Radiation was the only route to take in hopes to stop the tumor from growing.
With no family nearby to drive her back and forth to Edmonton for her treatments, Lola felt uncertain about how she would manage travelling an hour and a half each way to all of her appointments. Then, Lola learned about Sorrentino's Compassion House from her neighbours.
On January 16th, Lola checked into the House. She would stay for five weeks total, and undergo 25 radiation treatments at the Cross Cancer Institute.
Lola said that she was anxious to be away from home for so long as she isn't one for travelling, but felt immediately at ease after the first few days she spent at the House. She felt like she was greeted royally and was blown away by the compassion from the staff and other guests. After the tour of the House, she received her own quilt and a beautiful gift package to make her feel more welcome.
"After the first week at Compassion House, it honestly felt like home. You could relax, do what you wanted to do and if you needed anything, help was there."
Lola quickly made friends with the other women in the House, growing close to each other through their shared experience. She really enjoyed her morning and afternoon coffee visits. "We became friends quite fast," she said. "We helped each other as much as we could. I made three really good friends, and while it was sad to see them go home, you were happy for them."
One of her favourite things to do in the House was spend time in the craft room with the other ladies, sharing stories. "They've got everything in that craft room. We were pretty good at finding things to pass the day and fill our time."
The strong connections she made were what helped her the most through this difficult time. "You have so many thoughts and so many worries. Then you come into Compassion House, and meet all of these other women who are in the same boat you are. If you were down in the dumps, there was always somebody you could talk to."
The convenience of staying at the House, as well as the affordability, also helped ease so many of the worries she had faced at the start of her journey. "Having the opportunity to stay at this place helped me feel so comfortable. I didn't have to worry about driving back and forth, or the cost of gas. For the price that you pay to stay at the House, it was next to nothing. It was worth every penny."
Since returning home, Lola still has the special quilt she was given on her bed. She says that it serves as a reminder that there are people who are always thinking of you, and want to help others when they need it most.
"It's so touching to know that there are so many caring and loving people in this world, really and truly. You hear about the bad all of the time, but we don't hear enough of the good."
Based on her time spent at the House, Lola says that the name is truly fitting. "Compassion is such a beautiful word, and you can feel that love and energy that is put into the House."
Lola's story is featured in our 2021-22 Annual Report. Read the full report here.
---