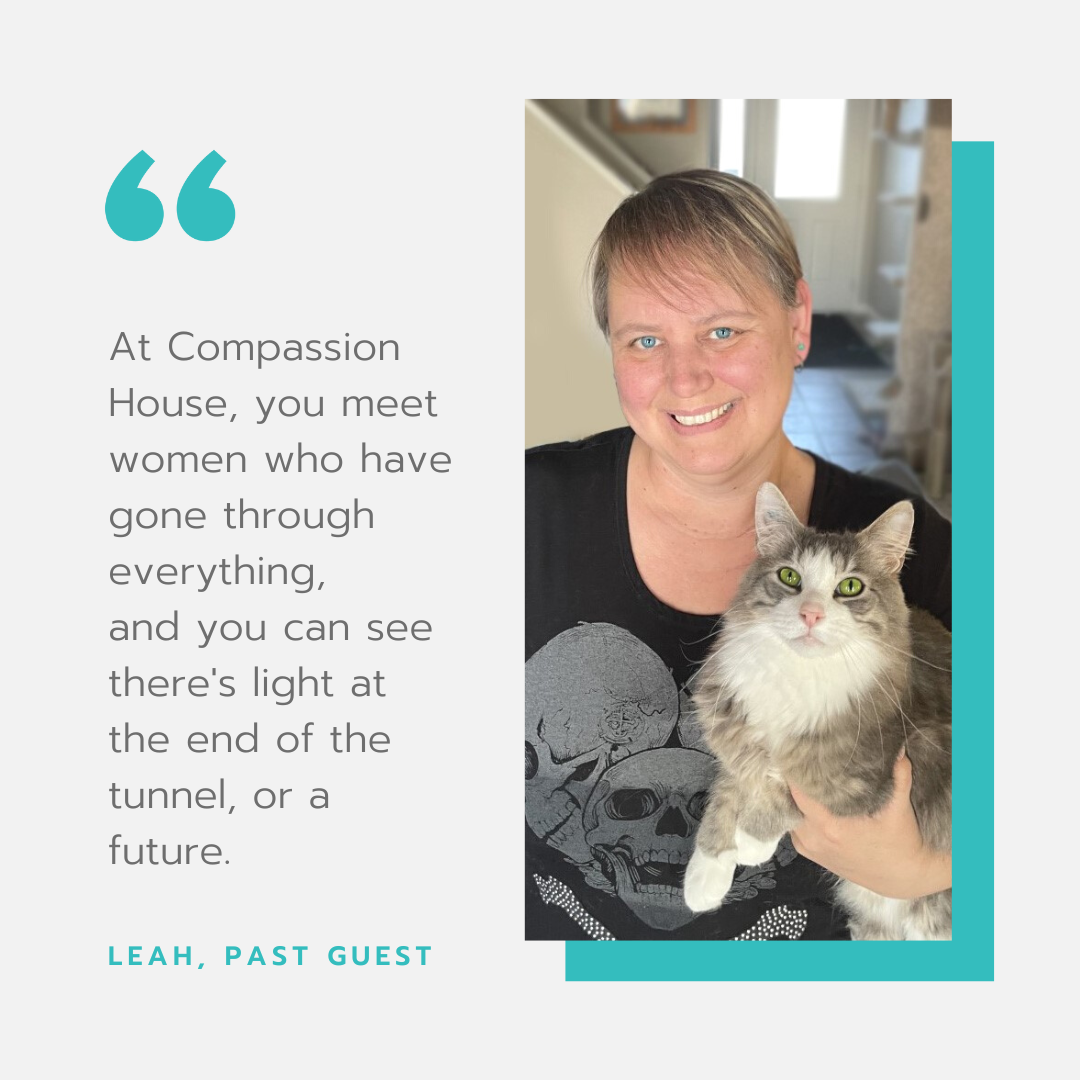 In 2014, Leah was diagnosed with breast cancer. "I am one of the lucky ones in my family," she joked, being the first person on either side of her family to ever receive this diagnosis.
After going through chemotherapy and surgery in her hometown of Grande Prairie, Leah needed somewhere safe and affordable to stay while she completed five weeks of radiation in Edmonton. When a nurse navigator gave Leah a list of recommended places, Sorrentino's Compassion House was the first one she called.
When Leah reached out to learn more and book her suite, she spoke with the House and Guest Services Manager, Sayler. "Sayler was outstanding," she said. "She was able to tell me everything I needed to know before I even knew what to ask."
One of the hardest parts of travelling to Edmonton for cancer treatment was missing her husband and two young children back home. "The first little bit was extremely hard," she said. "I had never been away from my kids. I remember my first day at the Compassion House, I was so overwhelmed with everything, I didn't know what to do."
Meeting other women who were staying at the House helped Leah feel less alone. "Then you kind of get lonely in your little room, so you go out exploring the house and hear giggles and laughter. You can't help but be drawn towards that."
When Leah was first going through treatment and surgery in Grande Prairie, she was surrounded by women who were sadly at the end stages of their lives. But staying at Sorrentino's Compassion House was an entirely different experience – Leah was able to connect with other guests who were going through a journey similar to her own.
Above all, she also found what she had been missing ever since her diagnosis: hope. "At Compassion House, you meet women who have gone through everything, and you can see there's light at the end of the tunnel, or a future," said Leah. "It was probably the most uplifting place I'd ever been. Before that, my experience with cancer was just doom and gloom. The people I met sadly, didn't survive."
"Your whole mind frame shifts because you talk to other women who have kids or grandkids and you relate a bit more," she said. "I found by the end of five weeks I didn't want to go home; I missed my family but I really enjoyed myself there."
"They're so inclusive; like family, you're never by yourself. If they don't see you, they look for you to make sure everything is okay."
Some of the fondest memories for Leah were spent in the heart of Sorrentino's Compassion House; the communal kitchen. "The kitchen is where everybody united," she said. "It was the go-to place where everybody met up, talked, laughed, cried, you name it."
She recalls an older couple who were also staying at the House; the husband seemed a bit lost in the kitchen trying to look after his wife during treatment. Leah and other guests took notice and lended him a helping hand.
"It's a community," she said. "We all help each other, even if it's not just another guest but their spouse. It's weird how strangers can get together and become like family members the whole time you're staying there."
Another fond memory was when Leah's twin sister was able to stay with her for a visit, which would confuse the other guests. "We had some fun with that," Leah said.
Staying at Sorrentino's Compassion House showed Leah that the cancer journey doesn't always have to be sad. "It's the first time I saw that I can do this; I can go on longer. It's not only bad things. There is some good that can come out of it."
Leah was one of the first Ambassadors to join our Compassion Network, a community of past guests who act as our voice in communities across the province.
"This place shows hope for me. I don't even know how to put into words how Compassion House has helped me mentally," said Leah.
"Being horribly scared, not knowing where to go, not knowing what to do; then you walk in the door and are greeted with a warm smile, everything is organized and laid out for you. It was what I needed for a situation I didn't feel positive about before."
As an Ambassador, Leah hopes she can spread the word and help other women find a haven at Sorrentino's Compassion House during cancer treatment. "It was a huge weight lifted off my shoulders and I couldn't wait to help others who needed that support, too."
"Compassion House saves lives; it really does."
---