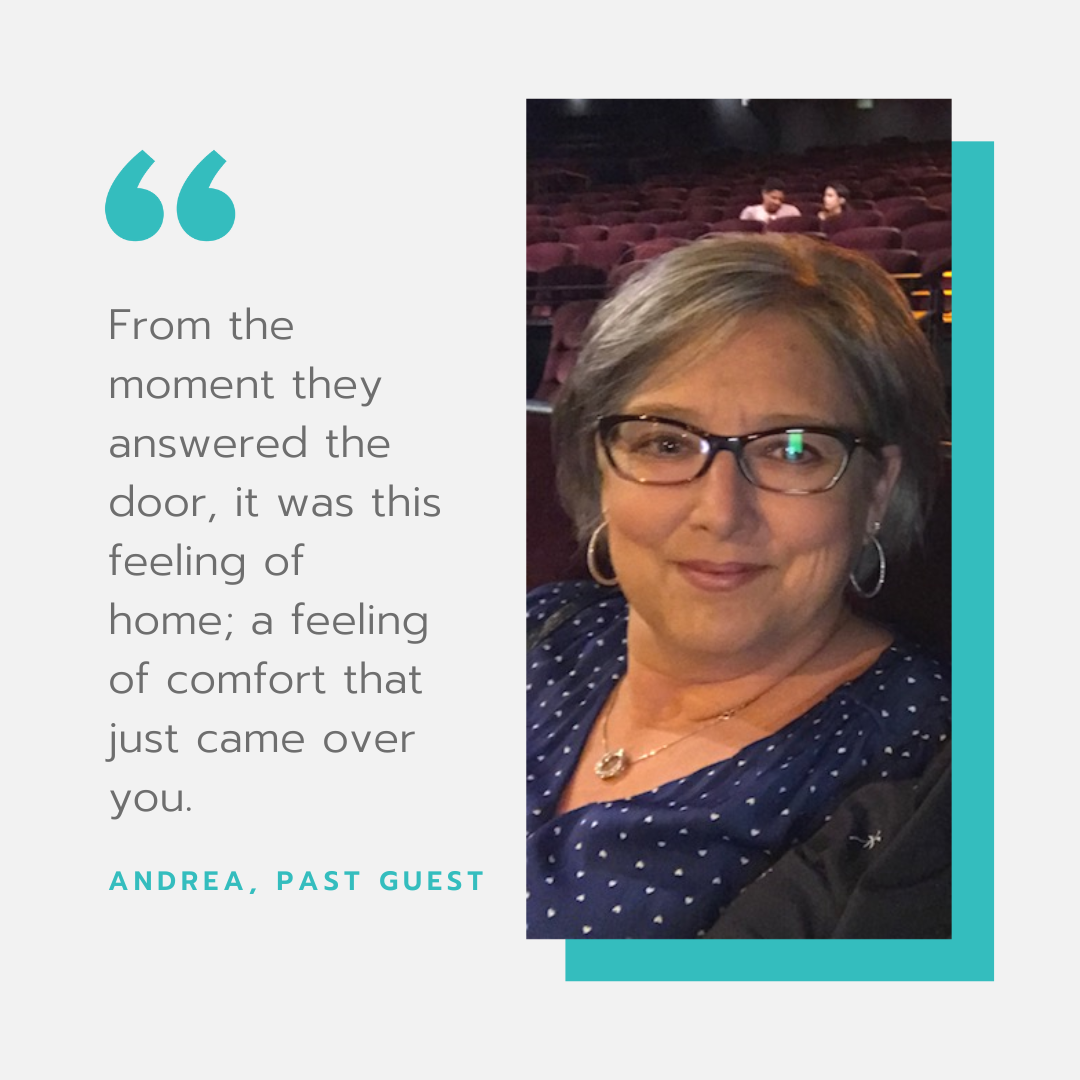 Andrea was first diagnosed with T-cell lymphoma 16 years ago. At the time, she was living in Cape Breton, Nova Scotia with her husband and their sons. The recommended course of treatment was radiation and after it was successful, life went back to normal for Andrea.
Fast forward to 2 years ago, now living in Fort McMurray with her family, Andrea was told the lymphoma had returned. She would need to go to the Cross Cancer Institute in Edmonton for the first time to undergo more radiation, which would take place over a couple of weeks.
Thankfully, Andrea was already familiar with Sorrentino's Compassion House. As an employee of Syncrude, a long-time partner of Compassion House Foundation and sponsor of the annual Fashion with Compassion show, she knew about the support they provide for women who needed to stay in Edmonton during cancer treatment.
When Andrea's son drove her down to Sorrentino's Compassion House from Fort McMurray, she felt a bit anxious at first. But that changed as soon as she was welcomed at the door.
The staff wouldn't let her lift a finger, carrying all of Andrea's belongings to her room and making sure she was settled in. "I was like, wow! From the moment they answered the door, it was this feeling of home; a feeling of comfort that just came over you."
"I remember thinking, 'This is amazing. I've never felt that comfortable walking in anywhere.' It couldn't have been any better."
For her stay at the House, Andrea brought her laptop and monitor with her so she could work, head to treatment, and finish working when she returned to the House.
Looking back, Andrea would have opted out for working during her time at the House, knowing what she knows now about the community of women who stay there.
However, she was still able to meet a few other House guests during her stay, and they opened up to each other about the challenges they were facing. "They were pretty amazing, and such strong individuals. Meeting some of the ladies that I had the opportunity to talk to, it really made me think of how lucky I am. They blew me away."
"To have Compassion House there to do what they do for women is truly incredible. I don't know if they realize how much they impact a person."
After Andrea's stay at the House, she was approached by Sayler, our House & Guest Services Manager, about becoming an Ambassador within our Compassion Network.
The Compassion Network is made up of former guests who act as the voice of our Foundation in their communities, spreading the word about the work we do and providing resources for women who are battling cancer.
Andrea was on the fence about joining, but her husband convinced her to become an Ambassador. "He saw how blown away I was by the House and how much I enjoyed my time there and said, 'The way you talk about it, you should do it.'"
She has now been an Ambassador for nearly a year, helping spread the word about the House and how it supports women and their families through the cancer journey.
Andrea believes that donors should give to Compassion House Foundation because of the difference they make for women and their families, including her own.
"It could be their mother, grandmother, sister, wife, or daughter," she said. "When a woman has cancer, it impacts the whole family. But Compassion House gives a family peace of mind to know there's a place their loved one can stay where she is taken care of, safe, and worry-free."
---