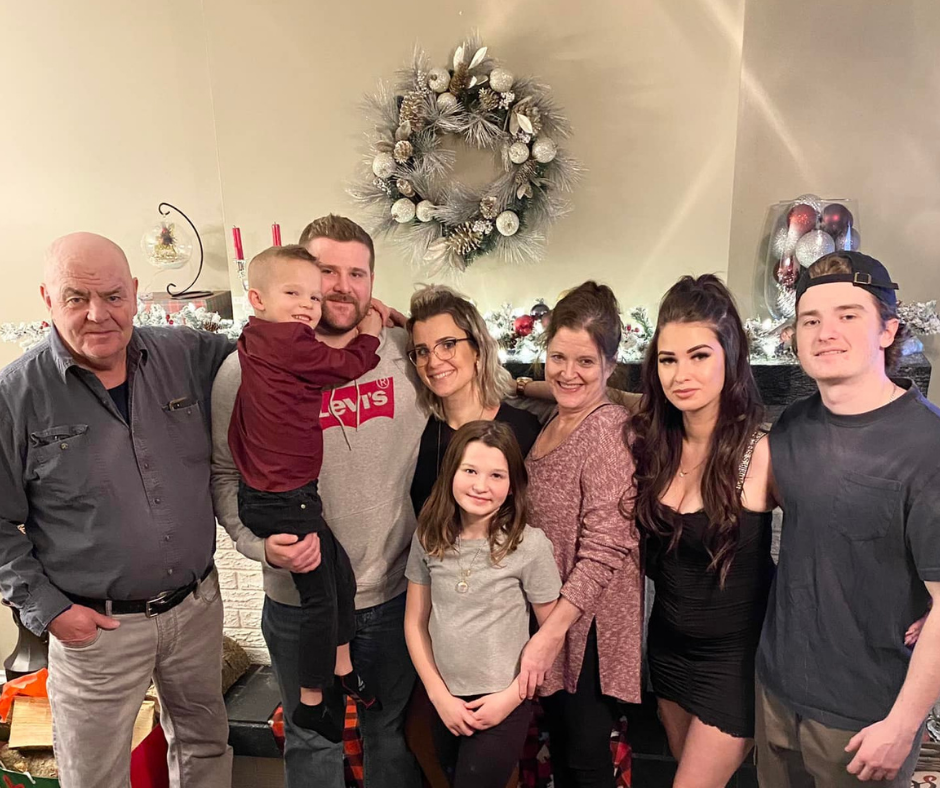 Originally from Nova Scotia, Margie has lived in Fort McMurray for the past ten years with her husband Billy, children Courtney, Christopher, Johnathan, Kylie, and some of her grandchildren; her oldest son Michael still lives in Nova Scotia with four children. For Margie, her family means everything.
It was last winter when Margie received horrible news: the spot she had found in her ear was basal cell carcinoma, a form of skin cancer. By the time Margie was diagnosed, the cancer had travelled to her eardrum.
Margie's surgeon advised her to stay in Edmonton after the procedure to remove the cancer, as well as half of her thyroid. She would need to spend nearly two weeks away from the comfort of home while she recovered.
Although her doctor recommended staying close to the University of Alberta Hospital for those two weeks, the nearby hotels were not cheap. Hoping to find a solution, Margie's daughter Courtney started to research online for more affordable options in the area. Thankfully, she found Sorrentino's Compassion House.
"The rest is history," Margie said. "It was perfect."
In November of 2021, Margie was welcomed to the House. Suddenly, the stress of travelling to and from treatment was no longer an issue; the shuttle van took Margie safely to every appointment, eliminating the added stress — and cost — of driving and parking in the city.
"That was totally worth its weight in gold," she said. "The drivers were great volunteers, and it was a beautiful new vehicle. They drop you off and pick you up; how could you go wrong?"
Margie stayed in the Syncrude Suite, the largest suite offered at the House where family members can stay as companions to the guests. As someone who is incredibly close with their family, Margie appreciated having her husband Billy or daughter keep her company whenever possible.
The privacy of the suite was another plus, giving Margie the space to relax during recovery. "I like socializing with people, but not when I don't feel good," she said.
As for the House staff, Margie was blown away by how supportive they were. "The staff were great, every one of them," she said. "Anything I wanted, all I had to do was ask and if they could help, they would." Since Margie enjoys watching her shows in the evenings, Sayler, our House & Guest Services Manager, stepped up to ensure Margie had a new TV put in the suite during her stay.
While navigating the cancer journey, Margie said it brought her family even closer. "I thought I wouldn't be here for Christmas," she said. "It made us all appreciate each other a little more."
At the end of her stay, Margie was able to take home her own special quilt from Sorrentino's Compassion House. These homemade quilts are given to the House by thoughtful donors, providing extra comfort to guests during a time when they need it most.
The quilt, as well as other small gifts Margie received during her stay at the House, brought a smile to her face on the hardest of days. "The little things are big things," she said.
The quilt now belongs to Margie's granddaughter, who she has a close bond to — they even share a birthday. "She was worried about me. I told her anytime she feels sad or doesn't feel like she's strong, to hug it because this is grandma's 'strong quilt.'"
Margie believes Sorrentino's Compassion House is a necessary service in Alberta for women who must leave their homes for cancer treatment. "It felt like home; it really did. I don't know what we would do if we didn't have Sorrentino's Compassion House."
Now, Margie has joined our Compassion Network as an Ambassador and hopes to spread the work about our organization, helping women who are facing a similar journey.
"The ladies who are staying there are facing their own mortality. It's so important to have beautiful places like this," said Margie. "Especially for people who are from far away like I am."
---