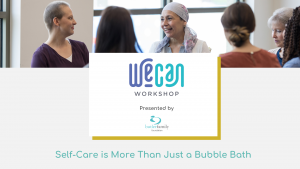 Topic

We Can Workshops empower women who have experienced cancer with insight and tools to help them start thriving—not just surviving—in the post-cancer treatment journey. Workshops are offered year-round both virtually and in communities throughout central and northern Alberta.
Self-Care is More Than Just a Bubble Bath will provide a social, supportive, and educational setting for participants to learn and discuss the importance of self-compassion and incorporating self-care in the post-cancer treatment journey.
Keynote Speaker: Shelly Prosko
Self-Compassion: The Foundation of Self-Care
Self-care is a popular term these days. While many of us would agree that taking care of oneself is a good thing, each of us may have different ideas of what self-care looks like or we may struggle with balancing our needs and the needs of those we love, particularly if we don't receive the support we need. The act of "self-care" often becomes yet another item on our "to do" list or an added pressure or expectation in an unrelenting pursuit of better health – which can result in the opposite of self-care.
Self-compassion has been shown to be a powerful antidote to many unhelpful health issues. Many of us, including some researchers, consider self-compassion to be the foundation of genuine self-care.
In this workshop we will explore, reflect, move, learn, and experience the dynamic process of self-compassion and redefine how self-care might show up in your life, offering you and those you love a thriving path forward.
You will learn and experience ways to cultivate and integrate a compassionate way of being in your daily life, amidst uncertainty and adversity, to help carve an enriched and flourishing path forward that may be sustained beyond tumultuous times.
Workshop Details

Date:
October 28th @ 7 PM – 9 PM
October 29th @ 8 AM – 4 PM
Location:
Sawridge Best Western Plus
410 TaigaNova Crescent
Fort McMurray, AB T9K 0T4
All are welcome to attend. View the weekend itinerary for more details.
Facilitators

Keynote Speaker: Shelly Prosko, PT, C-IAYT, PCAYT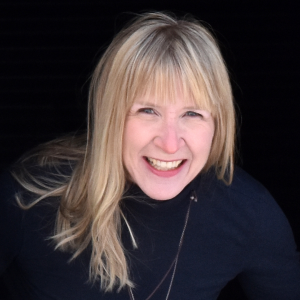 Shelly is a physiotherapist, yoga therapist, educator, author and pioneer of PhysioYoga with over 24 years of experience integrating yoga into physiotherapy within a variety of specialty areas. She teaches at numerous yoga therapy and physiotherapy schools, presents at yoga and medical conferences globally, contributes to academic research, provides resources for the general population, and offers continuing education courses and mentorship for yoga and healthcare professionals. She considers herself a lifelong student and emphasizes the immense value gained from clinical experience and learning from the patients she serves, the professionals she teaches, and the colleagues with which she collaborates.
Shelly has authored several book chapters in yoga therapy and integrative rehabilitation textbooks including Compassion in Pain Care and is the co-editor/author of the book Yoga and Science in Pain Care: Treating the Person in Pain. She maintains a clinical practice in Sylvan Lake, Alberta and believes compassion, including self- compassion, is the foundation of healthcare and overall well-being. Please visit www.physioyoga.ca to learn more.
Dr. Jacinta Sullivan, BScHK, ND #1936 (She/Her)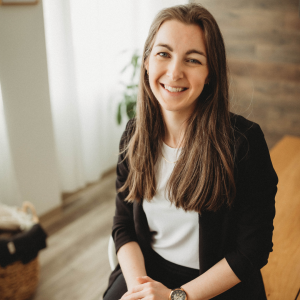 Dr. Jacinta Sullivan is a naturopathic doctor and co-owner of Juniper Naturopathic Clinic in Fort McMurray, Alberta. She has a strong focus in hormonal health with special interests in autoimmune and neurological diseases. Originally from Nova Scotia, she moved to Fort McMurray after completing her undergraduate studies at St. Francis Xavier University. After working in northern Alberta for a number of years, she pursued her passion of medicine and attended the Canadian College of Naturopathic Medicine in Toronto. Upon graduation, she returned to her community in Fort McMurray to help provide further healthcare to those in need.
Register