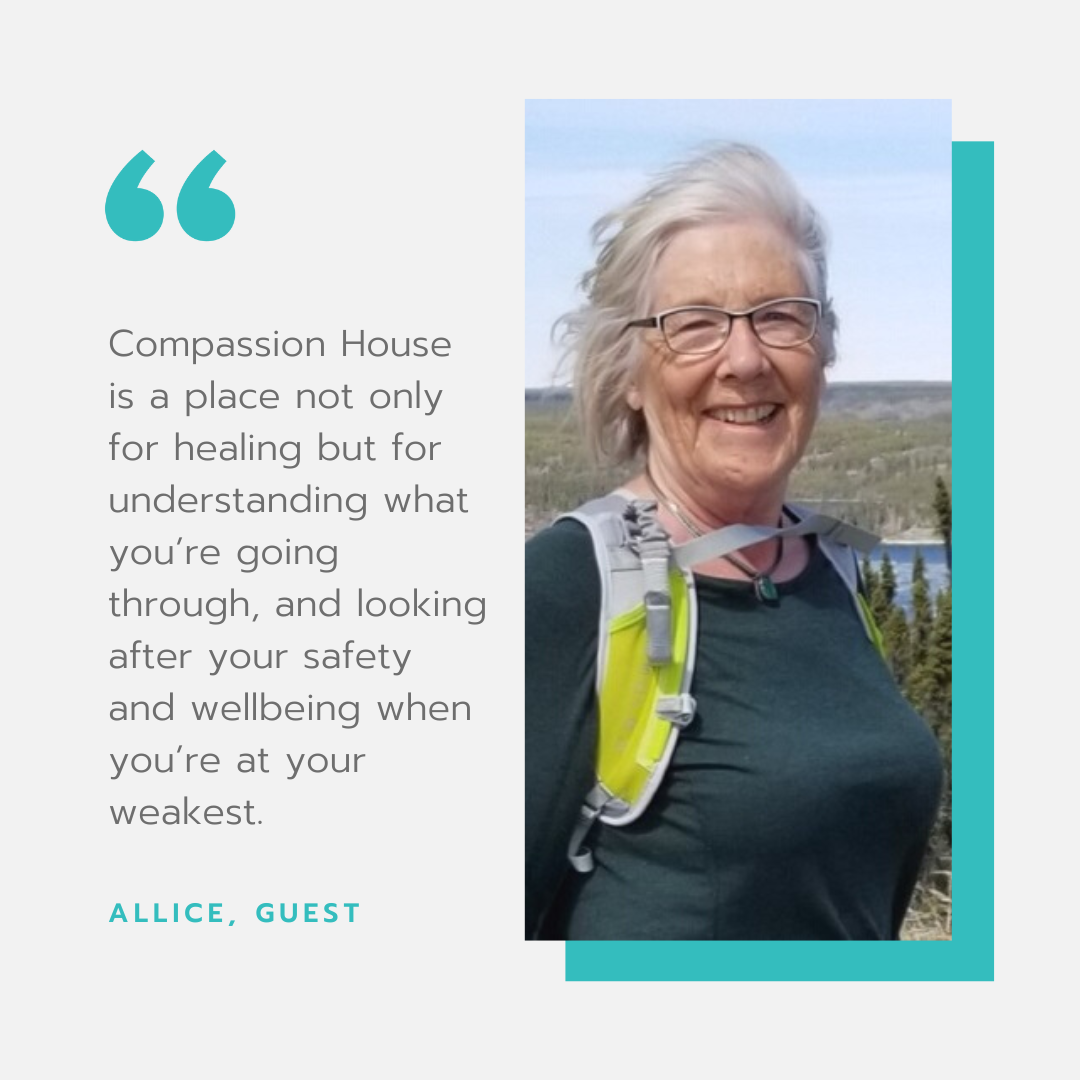 November is Lung Cancer Awareness Month.
To help raise awareness and empower those who are navigating this challenging diagnosis, we want to share our guest Allice's story.
Lung cancer is the most commonly diagnosed cancer in Canada, with 1 in 15 Canadian women will develop lung cancer during their lifetime.
It's a common myth that only tobacco smokers can get lung cancer. But according to Lung Cancer Canada, lung cancer in never-smokers is among the leading causes of cancer related mortality.
"If you have lungs, you can get lung cancer," said Allice. Other risk factors include second-hand smoke, radon, asbestos, outdoor air pollution, and personal or family history of lung cancer.
When she received the call from her doctor explaining that she might have lung cancer in 2018, Allice was scared. "I couldn't think. I didn't know what to do," she said.
With so many questions racing through her mind, Allice phoned Lung Cancer Canada in hopes of finding some answers. They provided her with plenty of resources, questions to ask her doctors, and helped her feel a bit more prepared for the news to come.
In order to confirm her diagnosis, Allice needed to travel for further tests and scans that weren't available in Yellowknife where she lived. Accompanied by her son, Allice made the trip to Edmonton for an MRI at the Cross Cancer Institute.
When she was asked to come back the next day for a biopsy, she immediately knew, "This sounds serious." With her son by her side, Allice allowed herself to go numb.
Sure enough, the biopsy results confirmed the news Allice had been dreading: she had stage 4 lung cancer.
After receiving her diagnosis, Allice was fortunate to fit the criteria for a clinical trial at the Cross. She stayed at a nearby hotel during treatment, but it was starting to drain her savings.
That's when Allice's caregiver, Joanne, found Sorrentino's Compassion House. It turned out to be just what Allice needed.
"It was this amazing place that I could afford," she said, recalling her first time at the House in October 2018. "It was beautiful and clean. The people were really nice; the staff were exceptional."
Some of Allice's favourite pastimes at the House were sitting by the fireplace in the living room to write, and listening to other guests play music on the piano. She would take the shuttle van to the Cross, sometimes opting to walk back from her appointments, despite it being a challenge in the beginning.
While staying at the House, one of the most important things for Allice was how comfortable she felt, both spending time alone and with other guests. "People don't intrude if you're sitting by yourself, but they also pay attention to how you are."
The second most important? Everyone staying at the House is going through the cancer journey. "You're not unique. Nobody's saying, 'Oh, I'm so sorry.' You talk about real things."
Being surrounded by other women who are navigating the same challenges is what made the community in the House feel so special.
"It's really important for women to have their own space to share their stories about cancer," said Allice. "In sharing those stories, they can hear from other women how they've dealt with the fear, the pain, the side effects. Talking to your kids, even grown-up kids. Accepting that you have cancer."
According to Allice, this comradeship found within the House helps women feel less alone or lost as they navigate living with cancer.
"Compassion House is a place not only for healing, but for understanding. Understanding what you're going through, and looking after your safety and wellbeing when you're at your weakest."
This October, we had the pleasure of welcoming Allice as our guest of honour for our Wine & Chocolate Tasting to share her story with our generous community of donors and supporters.
The night was one to remember, as we celebrated 20 years of Sorrentino's Compassion House!
Thank you to Allice for bravely telling her story in a room full of strangers, touching their hearts, sharing the importance of our cause, and allowing us to share her story here.
Lung cancer is one of the common cancer diagnoses among the women we serve at Sorrentino's Compassion House; from our last fiscal year, 7.6% of our guests were battling this form of cancer.
Help us continue supporting women like Allice by making a gift today.
References:
---