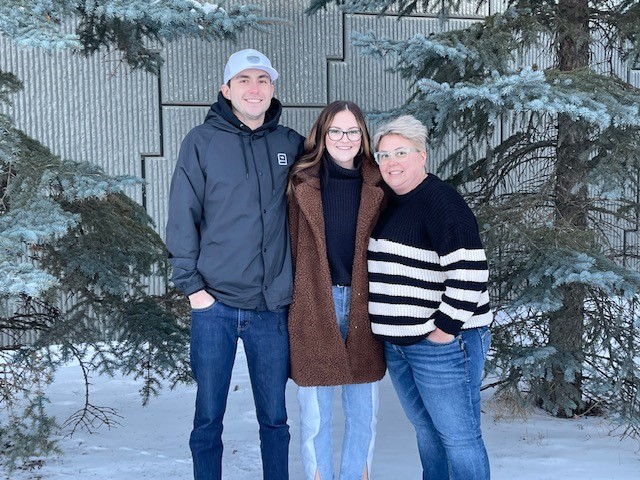 On May 19, Tiffany Blake heard the difficult, dreaded words, "You have cancer." She faced stage 3 cervical cancer with pelvic and abdominal lymph node involvement.
"I was just numb," said Tiffany, as she prepared to share the news with her family and friends.
Her recommended course of treatment was radiation and chemotherapy over 6 weeks, all at the Cross Cancer Institute in Edmonton. Tiffany lived in Fort McMurray.
With COVID-19 surging, and no family or friends to stay with, Tiffany began searching for a place to stay in Edmonton during her treatment―and found Sorrentino's Compassion House.
"I reached out and right away, I received a response and was told I had a room," said Tiffany. "I didn't have to think anymore about where I was staying. I told my family, and they felt relief too."
Comfort, community, connection
On July 2, Tiffany checked in for her first of 41 nights at the House.
"It was a moment I was dreading," she said. "Everything was now real."
Welcomed with a warm smile, staff showed Tiffany her room, toured her through the House, set up transportation to her daily appointments, and filled her prescription for delivery to the House.
"Due to COVID-19, I wasn't able to have anyone with me; it was a very lonely and frightening feeling," said Tiffany. "The staff service made me feel cared for and not alone."
She became friends with the other guests, too―connected by shared experience.
"Everyone had one thing in common," said Tiffany. "We shared laughs and tears during our daily updates, meals, movie nights, walks, and visits on the back deck and in the common areas. It was my safe haven."
A home away from home
Tiffany finished treatment and checked out on August 13, grateful for all the support and connections: "They made the worst time in my life bearable," she said.
After returning home to Fort McMurray, Tiffany quickly connected with the Foundation again as a volunteer Compassion Network Ambassador. In this role, she continues to the support the Foundation and other women facing cancer in her community, giving back to those who gave her and her family so much.
"The House became my home and gave my family peace of mind," said Tiffany. "I'm so grateful for the support and for everyone who ensures the Foundation is available for women and their families during the cancer journey."
If you or a woman you know is facing a cancer diagnosis, please don't hesitate to reach out. Safe, comfortable, and affordable, Sorrentino's Compassion House is a haven of healing support for women who must travel to Edmonton for cancer treatment. Learn more and book your stay.